Class #572
Artemis BJJ (Impact Gym), Dónal Carmody, Bristol, UK - 03/06/2014
In an exciting move for Artemis BJJ, we're now teaching at the massive Impact Gym over in the Kingswood/Staple Hill area of Bristol. It's a professional venue, with a huge space, front desk, pro shop, showers, changing rooms, lots of matted areas and a whole ton of different classes. There's some space for bikes when you come in, under the stairs. You then head right up to the top of the stairs, where you'll come out into the main space. We're in the matted room off to the side, through the double doors just down from the reception desk. Full details on our
Locations
page:
View
Locations
in a larger map
All this month, we're working on the
half guard
. Dónal decided to go through a version known as the knee shield or z-guard tonight. Essentially it was the same kind of thing I taught
yesterday
about
maintaining half guard
, except that you bring your knee across into their hip. That enables you to create distance as well as stopping them from bringing their weight down and/or forward, messing up their ability to pass.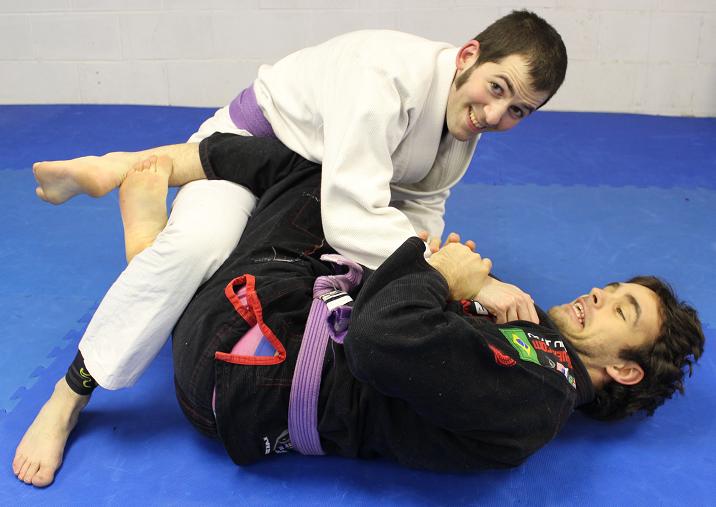 Dónal likes to lock his feet, which makes it harder for them to pull their leg free. However, a lot of people struggle with that, especially if they have short legs like me: the alternative is to shove your knee up into their chest, with your feet open. But be aware you don't let their leg free, meaning you need to keep hold of it with your hooking leg. If they are pushing down on your knee, flare your knee out into their arm. That should open up a gap: reach through it with your free arm to get an underhook around their back. As you do, pop up on your knee, sliding it out so you're on your kneecap. That should make it harder for them to drive into you and push you down.
For specific
sparring
, I was mainly with beginners, but that was still useful for playing with technique, especially as my half guard is pretty bad. I messed around with the old school sweep, starting off with Jason Scully's leg tweak detail to get in position. I'm not sure if I'm grabbing with the right hand, as I didn't feel like I had much leverage to drive forward. I'm probably also missing a switch of grip somewhere, so I'll need to go review my notes from the last time I learned this. Something to keep playing with. :)