[For more on my background, see
here
]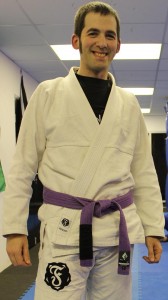 If you're looking to get in touch, then either stick up a comment on the relevant post in my blog, or email me
here
. If you're looking to train with me at my school in Bristol, head over to the website,
Artemis BJJ
.
If you're selling a BJJ product and you would like me to review your
gi
,
DVD
,
book
etc, then I'd also be interested in hearing from you.
Send it
to me, and I guarantee an objective and thorough appraisal. If you're looking for an example, see my piece on
Blue Belt Requirements
. The full list of my numerous reviews can be found
here
.
If you're looking to advertise on here, you can
contact me
to discuss the options. First come, first served.
Alternatively, there are a bunch of other ways to get in touch with me. I'm all over the web on forums, and also places like
LinkedIn
,
Twitter
,
reddit
and Last.fm (I enjoy sharing musical taste, so if you read this blog and are also on
Last.fm
, let me know.)
_________________________
I initially used this blog as a way to review schools, way back when I headed down to my
first MMA class
in Bristol. I became a regular blogger once I began training Brazilian jiu jitsu at the Roger Gracie Academy in 2006, writing up every class in order to remember technique,
track my progress
and plan my goals for sparring.
I received my blue belt from Jude Samuel in
February 2008
, and my purple belt from Roger Gracie and Kev Capel in
March 2011
, brown belt in Dec 2017 and black belt in May 2023. In writing this blog, I'm also hoping to get feedback from other BJJers - constructive comments on
my training
are always appreciated!
I then started adding BJJ resources, like the
BJJ glossary
and
technique summary
in 2007, followed by the
UK BJJ map
,
product reviews
and an extensive
BJJ Beginner FAQ
in 2008. More recently, I've been trying my hand at
articles
, covering a variety of BJJ topics, along with
interviews
. I've also been using the blog to explore my interest in
BJJ history
. Please feel free to drop me a line if you've got any
further sources
(as long as it is something reputable I can reference and preferably link).
You can read further examples of my writing in
Jiu Jitsu Style
magazine, to which I'm a regular contributor. I have several pieces in
The Warwick Review
, relating to poetry analysis. Online, my work has appeared on BJJ Legends, JiuJiuBJJ.com, MixedMartialArts.com, GiReviews.net, The Fightworks Podcast, BJJToday, Metamoris.com and GiFreak, along with various other sites.
If for some reason you want to hear/read people interviewing me, you can find that on
MixedMartialWorld.com
(text) and
the Fightworks Podcast
(audio).